When the weather is warm and you've got guests to entertain, ditch the dining room table. Conversation is always better around a fire pit while devouring s'mores, or on a patio gazing at the stars while sipping a glass of wine.
The outdoor living space is anchored with custom cut Woodbury Gray granite pavers and framed by Old New England Wallstone.
When the spring and summer come around, we crave the elements of nature. That's why more homeowners are transforming their backyard into an outdoor oasis, perfect for both a personal retreat and space for entertaining.
But in order to create the outdoor oasis of your dreams, you need the right elements. You may notice that lately, many of these spaces are unique, out of the box and reflect the homeowner's personal taste. Because of this, over the years we've had to look at what we make, and how we make it, in a different way, adding more custom options.
Demand for stone in outdoor living spaces has been increasing, with homeowners looking to build more amenities and custom features into their backyards. Beyond an outdoor bar top, homeowners want an entire fully functional outdoor kitchen, complete with pizza ovens and intricate angles and custom details. The designs have evolved too. No longer are contractors limited to plunking down a cookie cutter patio or fireplace built for a showroom. Architects and landscape designers are much more involved in planning outdoor kitchens and living areas, incorporating them into a cohesive design for the whole home.
We've noticed more designers incorporating raised areas and different levels, defining areas with stone veneer walls capped with bluestone, highlighting walkways with flagstones and stairs with granite treads. Even the path to the backyard has gone beyond straight paving. Granite pavers are now available in custom shapes and sizes to create a flowing organic look.
Backyard possibilities only grow when you consider elements like outdoor kitchens with inset grills and fridge spaces, and fire pits, outdoor fireplaces and custom seating all built with granite and natural stone. Natural stone is virtually maintenance-free, appreciates in value, and with our streamlined production process, can be extremely affordable as well.
Here are some of Swenson's favorite outdoor living projects to give you some inspiration:
The Outdoor Fireplace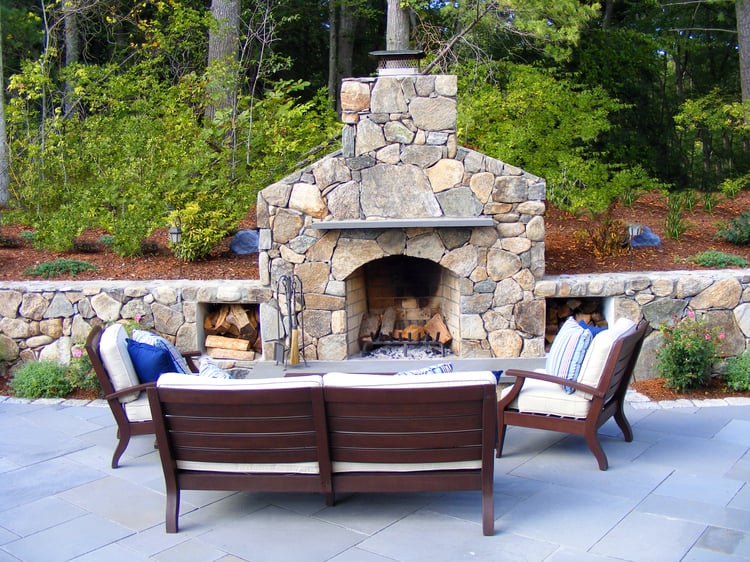 This stunning outdoor natural stone fireplace creates a cozy space to kick back and lounge. Back Meadow Fieldstone, Bluestone hearth and mantel.
Fieldstone is beautiful, strong and durable, ideal for this outdoor setting. The Bluestone hearth and mantel complement the fieldstone and give the fireplace a sense of permanence. The fireplace wall conveniently allows plenty of storage for firewood and creates a natural separation from the raised planting area. Bluestone pavers elevate the look of the patio like a well chosen area rug does for an indoor living room.
READ MORE ABOUT OUTDOOR FIREPLACES HERE
The Fire Pit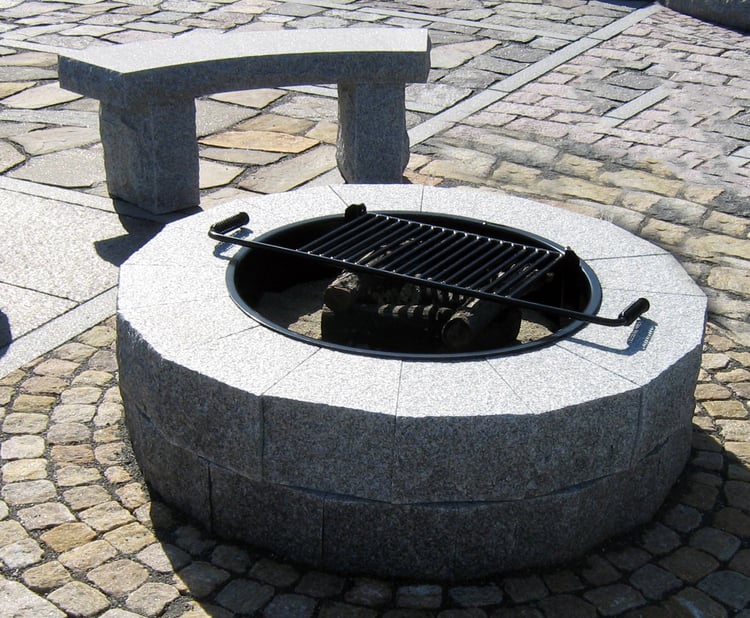 This firepit is a Saturday DIY project featuring Woodbury Gray granite blocks.
Grab your marshmallows – it's time for s'mores 'round the fire pit. There is nothing like relaxing to the sound of open fire crackling, while wrapped in a cozy blanket on a crisp evening. Swenson's fire pit is the perfect DIY kit. Made from Woodbury Gray granite, with a 30" diameter cast iron ring and tilt back cooking grate included. There are 16 blocks per tier. Each block weighs roughly 50 lbs.
CHECK OUT THE ULTIMATE GUIDE TO DIY GRANITE FIRE PITS
Stone Benches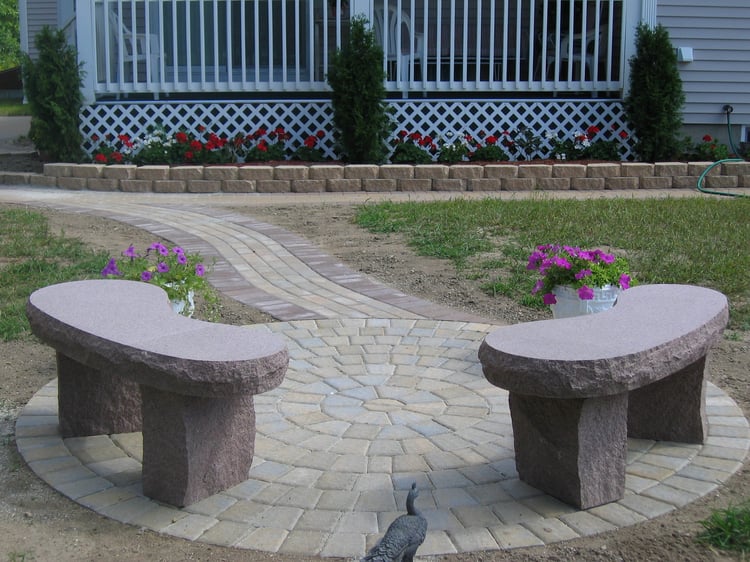 Granite benches last for generations and make great backyard focal points. This kidney shaped bench design features Autumn Pink granite.
A handcrafted granite bench adds a nice finishing touch to your landscape design. Swenson's sturdy benches offer a place to relax and reflect. Benches are also a wonderful way to memorialize and remember a loved one with custom engraving. With several colors, finishes and sizes, we have the right one to fit your area perfectly. Homeowners can also design custom granite seating.
READ MORE ABOUT ORNAMENTAL PROUCTS HERE
The Natural Patio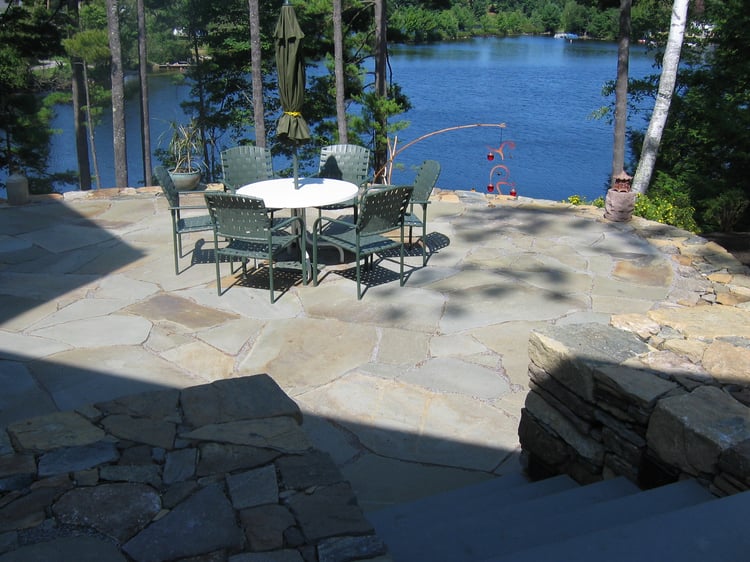 The organic look of irregular bluestone patios fits with natural surroundings to create a harmonious environment.
A natural stone patio adds functionality and beauty to any backyard. Swenson has a broad selection of granite and stone pavers to choose from. Whether you like the classic look of irregular stones or the ease and clean lines of modular pavers, you'll enjoy a lifetime of service from natural paving products.
This particular patio was made with irregular bluestone, perfect for the rustic landscape. This irregular bluestone patio was created by custom cutting each piece of bluestone on-site to design this unique outdoor retreat. This space looks so serene; such a lovely living space for entertaining.
Learn the six things to consider when choosing the stone that naturally fits your patio design.
When you're ready to create the outdoor living space you've always wanted, we can work with you to choose your features and plan the project from start to finish. We can help with everything from choosing your stone and tips on DIY projects to custom custom one-of-a-kind projects.
Explore more backyard options with a tour through some of New England's most beautiful backyard spaces. Download our inspiration guide here.