Whether you're interested in increasing the value of your home or simply refreshing the look and feel of its exterior, granite and natural stone are the most versatile ways to add curb appeal. These materials are unrivaled in terms of aesthetics and durability, adding timeless style and dimension that will last a lifetime.
All nine Swenson Granite Works stores offer a range of granite products, from natural stone accents to custom fabricated steps, that will complement both your house and front yard landscape to create a lasting impression.
Here are 8 simple ways you can add curb appeal to your home with granite products.
GRANITE STEPS
A well-designed set of front steps can create a warm and inviting entrance to your home. Since they will be used by residents and guests every day, functionality is just as important as aesthetics when choosing the right building material.
Granite is an excellent choice for all outdoor steps, surpassing wood, concrete, and brick in terms of appearance and durability. Swenson's non-slip, thermal finish granite steps are safe and durable year-round, resisting erosion even in the most brutal weather conditions.
Steps can be crafted to fit the layout and aesthetic of any home. From standard rectangular steps to radial or tiered designs, they can be custom-made with a variety of finishes and cuts. Embankment steps can also be built into the landscape to create a functional transition from one level of your property to the next.
Learn more about how to choose and install the granite step style that's right for your home here.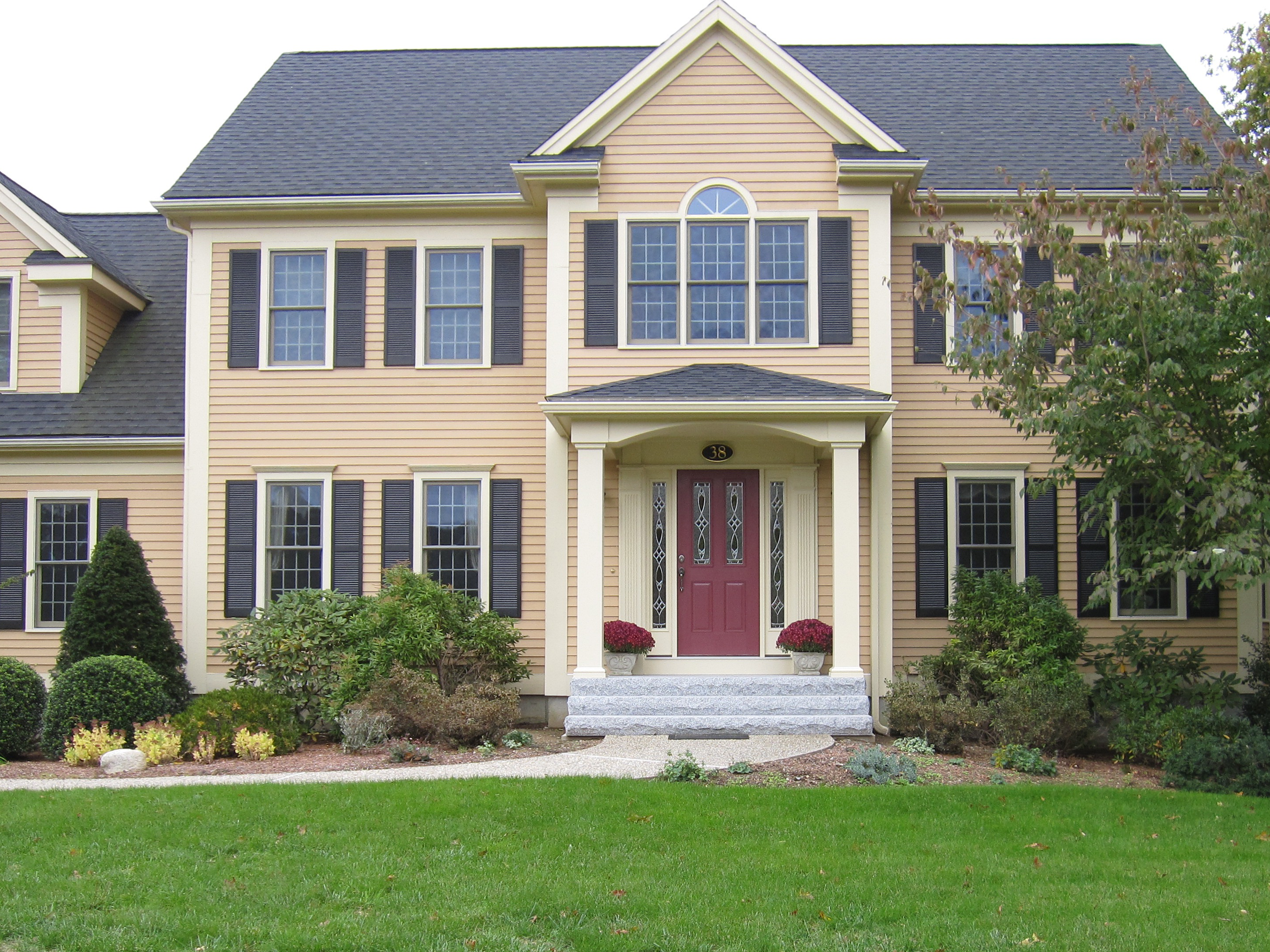 Woodbury Gray granite steps with rock face edges are a versatile option that can complement a variety of homes with different styles and accent colors.
WALKWAY
No front entrance is complete without a functional walkway. Creating a natural stone path to your front door can make your home look more unique and inviting to guests, all while highlighting your front yard's best features.
A customized walkway can set your home apart from the rest with a unique shape, size and pattern. Stone paths made with natural materials from Swenson Granite Works can be installed in a variety of designs, from sharp, geometric patterns to rustic, asymmetrical arrangements. Walkways can also be decorated with colorful flowers, shrubs, and other surrounding softscape features.
While materials like concrete and brick can fade, chip, or crack when exposed to the elements, granite pavers will withstand severe change in climate and harsh sunlight for years to come.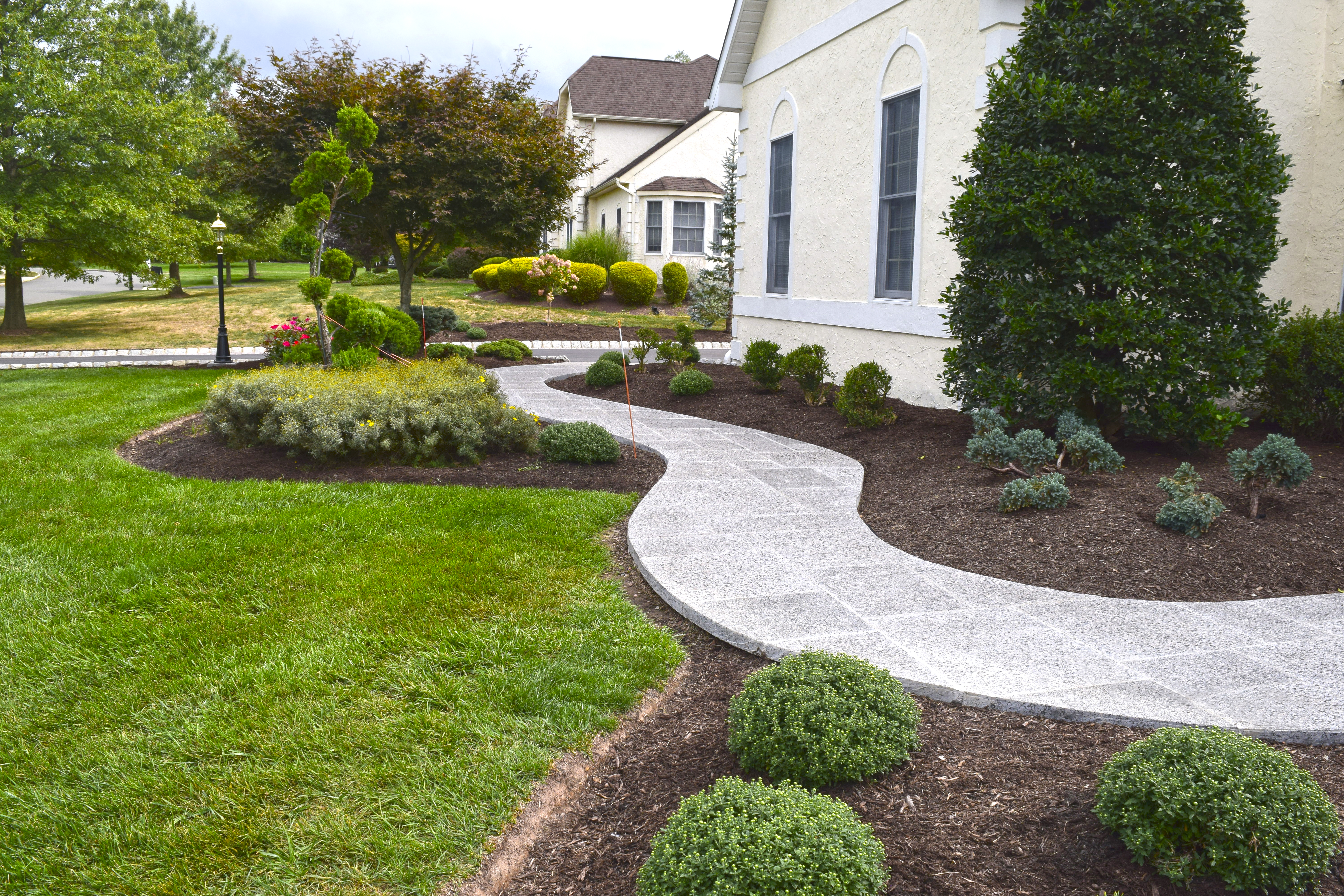 Caledonia granite pavers can be used to create an elegant walkway outside any home. Project by Ettore Masonry.
MAILBOX POST
Customizing your driveway entrance with a unique granite mailbox post will make your home stand out. This feature will complement any home effortlessly, especially those with other natural stone features. A granite mailbox post will be more durable than wood or aluminum, and once it's installed, it will be virtually maintenance-free.
Learn more about creating a granite mailbox post here.
Woodbury Gray granite mailbox post with custom engraved house numbers.
LAMP POST
With the proper lighting, you can extend the curb appeal of your home into the evening. Swenson's granite lamp posts will illuminate your home at night while also enhancing the appearance of your front yard landscape during the day. Aside from their visual appeal, the lighting also provides additional security and safety.
While wooden and iron lamp posts are susceptible to rot and rust from outdoor elements, granite is an excellent alternative because of its ability to withstand the freeze-thaw cycle.
In addition, smaller granite lamp posts can be used for walkway lighting, creating an illuminated path all the way to your front door, garden or patio.
Woodbury Gray granite lamp post and cap complements other natural stone features in this New England home. The wall cap and pavers are Caledonia granite. Project by Elwell's Masonry.
Woodbury Gray granite lamp posts with granite caps accentuate the surrounding landscape. Project by Elwell's Masonry.
GARDEN AND DRIVEWAY EDGING
Granite edging can add visual interest to your front yard by creating a decorative border around driveways and walkways. It can also function as a root barrier between plants or grasses and hardscapes.
Granite edging can also be used around a garden or planter bed to accentuate natural features. It is available in a variety of styles to match any home, from rustic to contemporary.
For ideas on curbing and edging, download the inspiration guide.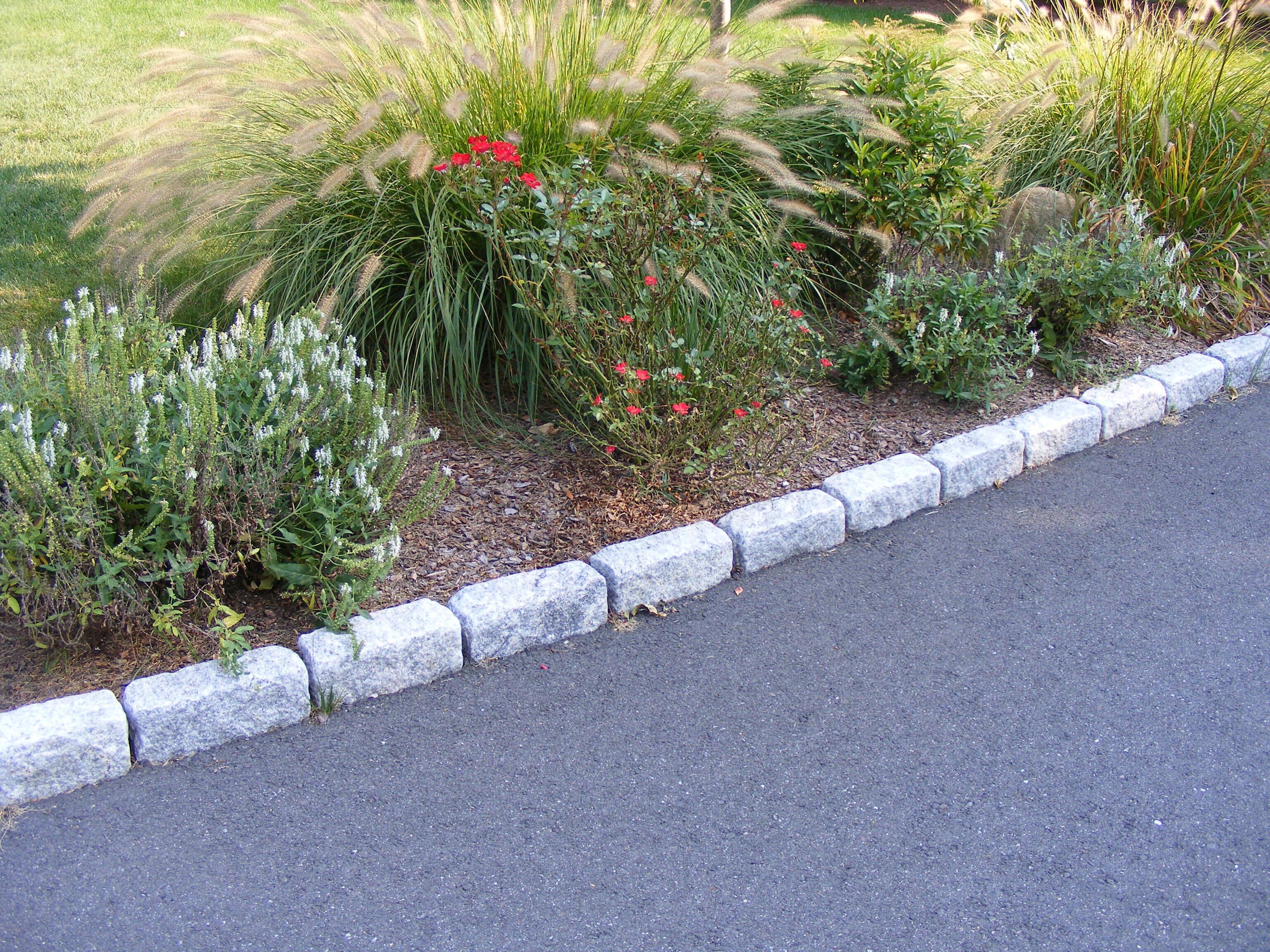 Granite cobblestone edging creates a decorative border between hardscape and landscape.
4" X 7" Woodbury Gray granite driveway edging functions as an elegant perimeter around landscaping in this front yard.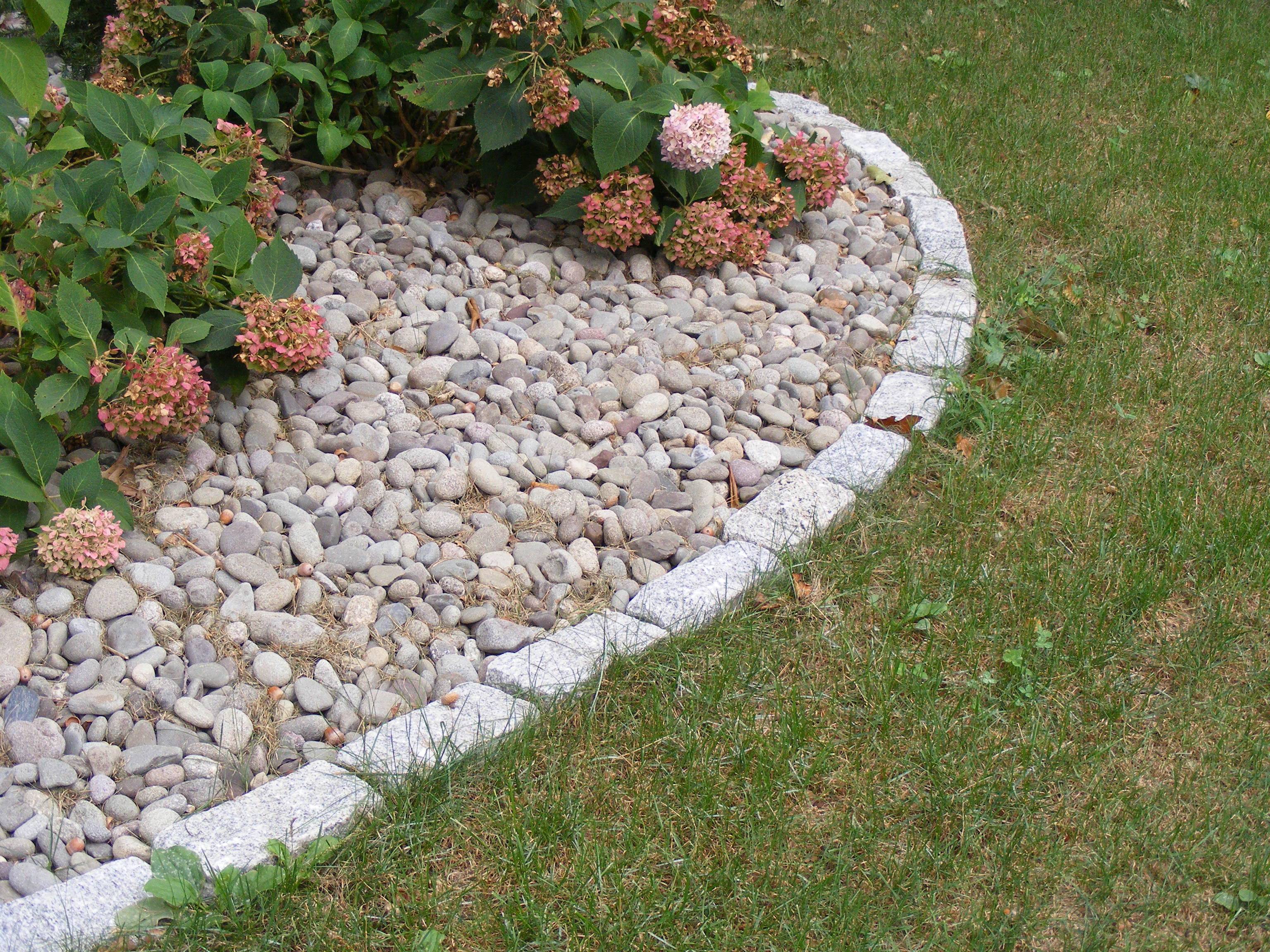 Granite cobblestones complement the stone mulch in this planter bed.
COBBLESTONE APRON
Cobblestone aprons function similarly to granite edging but provide a wider paved border for driveways or planter beds. Granite cobblestones are outstanding for aprons because of their durability, functionality, and appearance.
Unlike concrete or brick, granite cobblestones are resistant to erosion and provide traction on steep surfaces with their textured finish. They also add curb appeal by making your home stand out, even from the end of the driveway.
Gray cobblestones, paired with Woodbury Gray granite posts, elevate this driveway entrance. Project by Seoane Landscape Design.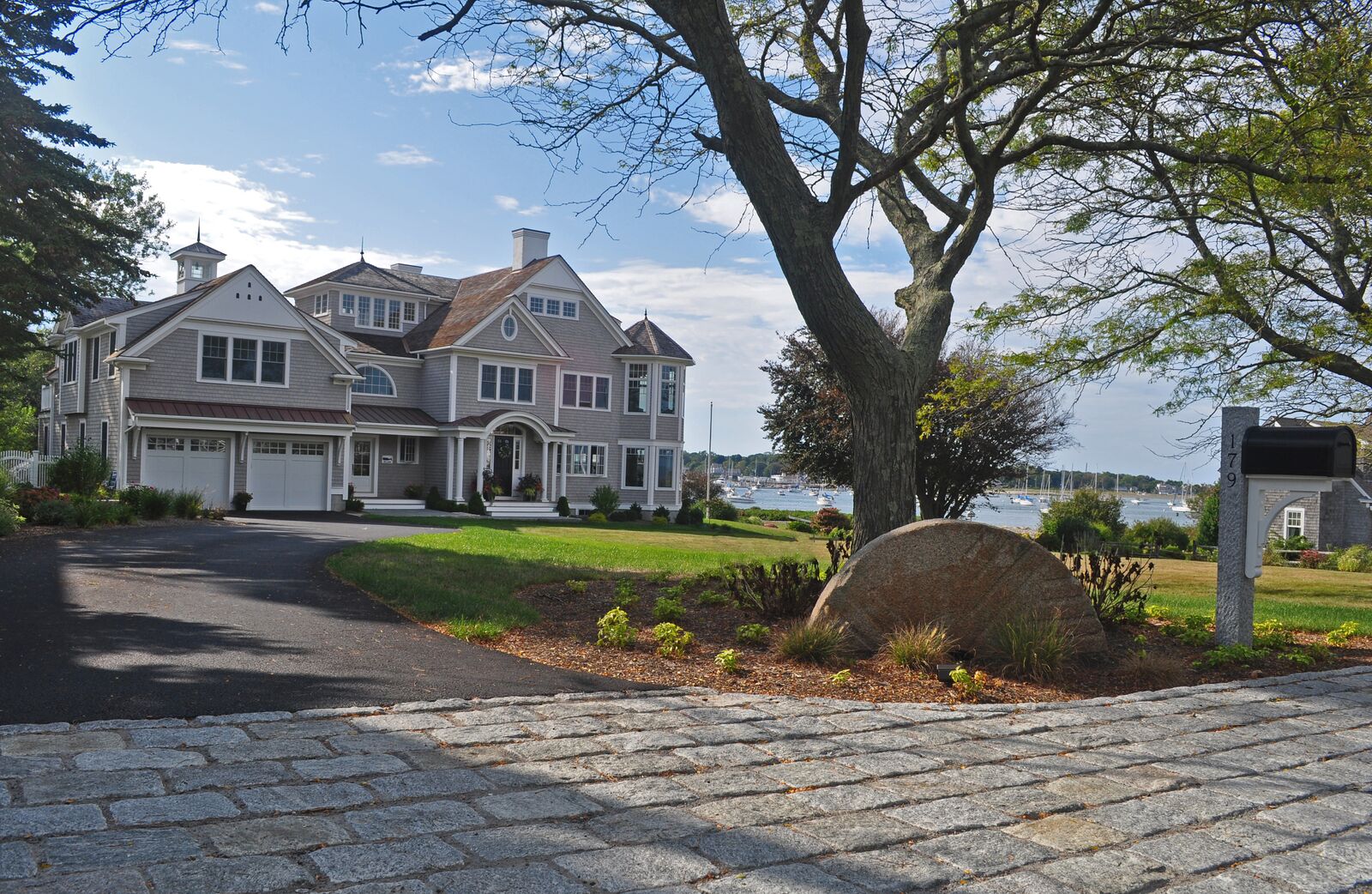 NATURAL STONE VENEER
Adding natural stone veneer to your home's exterior is a great way to complement the surrounding landscape and add texture against ordinary siding. Granite can also be used to cover pillars, accentuate chimneys, or add a timeless look to window sills - all the while creating protection from the elements.
With a wide variety of shapes and colors available, there is an excellent natural stone veneer design for any home. Granite veneer is also resistant to fading and will maintain its color year after year with zero maintenance.
When it comes to choosing between thin sawn and full-bed veneer, structural support and style are important considerations. Thin veneer is very light and offers flexibility to homeowners, as it can be placed virtually anywhere. Full-bed veneer, on the other hand, is much heavier than thin veneer and will add more depth and dimension, creating the illusion of a building built entirely from stone.
Square and rectangular Corinthian granite cover this grand entrance way. Project by Elwell's Masonry.
American and Corinthian granite veneer cover the exterior walls of this New England home.
STONE WALL
Building a granite wall at the front of your home will add curb appeal by defining your landscape and creating visual appeal that will last a lifetime.
Stone walls can be dry stacked for a natural, weathered look or mortared for a more contemporary appearance. Mortared walls also provide additional structural support, which is especially beneficial for taller walls.
Free-standing walls are an excellent option for creating a barrier between properties and providing a feeling of security to any home. Retaining walls, on the other hand, are used to hold back soil and enclose a raised area of land.
New England-style wallstone creates a retaining wall around this property entrance. The steps are Woodbury Gray granite. Project by Seoane Landscape Design.
New England-style wallstone surrounds Woodbury Gray granite split face steps. The lamp posts are Woodbury Gray, rock face granite. Project by Seoane Landscape Design.
Inspired to take your home's curb appeal to the next level? Download the Curb Appeal Inspiration Guide here.